Workholding Rotary Unions
Product Announcement from Rotary Systems, Inc.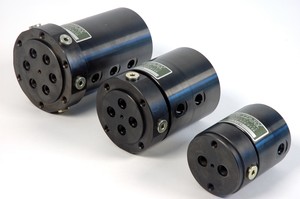 Rotary Systems' new line of "029" series work-holding unions are available in two, four and six passage models. These unions are designed with #4 SAE threads with both radial and axial feeds on the rotor shaft for a choice in mounting your fittings.
The union utilizes a hardened and ground shaft, impregnated Teflon seals and dual radial ball bearings to eliminate seal loading which results in longer life of the union.
These unions are designed for high pressure and moderate speed applications. They are ideal for rotating pallet changers and rotary indexing table applications. Multiple medias can be passed through the union without cross comtamination between passages.
If you have a specific workholding rotary union application, contact Rotary Systems at 800.959.0146 or email info@rotarysystems.com.
About Rotary Systems:
Rotary Systems is recognized for our innovative design and manufacturing capabilities in rotary unions and electrical slip rings. From our skilled engineers to our state-of-the-art facility to our incredible depth of knowledge, you can trust Rotary Systems to always deliver rotating unions and slip ring solutions designed and built to the highest standards possible. To learn more how engineers around the world, in limitless industries, including Automation, Defense, Offshore, Semi-Conductor, Energy, and Food and Beverage Processing have counted on our engineering expertise to turn their visions into reality, please contact an applications engineer at info@rotarysystems.com or call 800.959.0146.
---