Closed Shelving - SRE9005
Product Announcement from Rousseau Metal inc.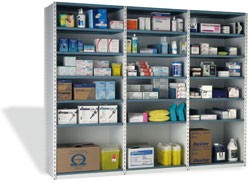 Product Characteristics
· 21 shelves
· 625 lb capacity per shelf.

Components
36 Partial Dividers for Shelf (19 1/8"P)
4 Welded Mini-Racking Upright Assembly
3 Back Panel
3 Back Panel
21 Box Shelf
General Characteristics
· The unique shape of the Spider® post is a Rousseau Metal inc. trademark.
· Load capacity and a design adapted to manual storage in most industrial and commercial sectors.
· An extremely versatile structure, to which a wide range of accessories can be added.
· A functional design that ensures it's easy to use.
· Common post for Mini-Racking and industrial shelving.
· Shelves are adjustable.
· Various shelving heights available: 39", 51", 75", 87", 99", 111", 123" and more.
· Our standard lead time is 10 to 15 working days.
· Photo is a product image only as final product look may change depending on color and accessories selected.
· Wide variety of accessories provide flexibility for custom layouts.
---