Computer Workstation with Cabinet - R5WH5-2015
Product Announcement from Rousseau Metal inc.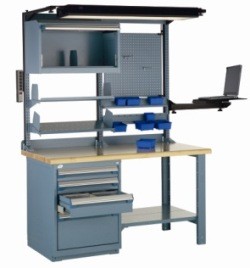 Product Characteristics
· 60" W X 30" D X 80" H
· 400 lb capacity per drawer, the sturdiest in the industry.
· 100% access to drawer contents.
· Top thickness: 1 3/4" (included in the height).
· All components above work surface are assembled to the uprights with plastic knobs or installed with hooks.

Components
1 Power outlet strip
6 Partial Divider for shelf (7 1/8"P)
1 WM Unit Frame
1 Cantilever overhead supports
2 Tiltable Shelf (28"W X 12"D)
1 Overhead workstation light (T8)
1 Perforated panel
1 Laminated Wood Top (60"W x 30"D)
2 STEEL SHELF
1 OPEN LEG
1 HEAVY-DUTY ARTICULATING ARM
1 Monitor Tray with Double Articulating Arm
1 Wall storage cabinet with retractable door
1 Retractable door
1 Recessed Base (front access)
2 Heavy-Duty Drawer for Cabinet (24"W X 27"D x 4"H)
1 Heavy-Duty Drawer for Cabinet (24"W X 27"D x 6"H)
1 Heavy-Duty Drawer for Cabinet (24"W X 27"D x 12"H)
General Characteristics
· Wide variety of accessories provide flexibility for custom layouts.
· Layout and position of accessories may be changed without using tools, allowing your system to evolve with your needs.
· Its robust components make it ideal for industrial applications while its attractive design fits perfectly in office environments.
· Our standard lead time is 10 to 15 working days.
· Photo is a product image only as final product look may change depending on color and accessories selected.
---