Royal Products Chuck Stop
Product Announcement from Royal Products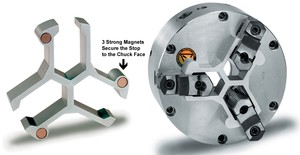 For over 60 years, Royal Products has been designing and building precision metalworking accessories to help manufacturers squeeze every last drop of performance out of their machine tools.
The Royal Products Chuck Stop provides a simple method for locating short parts in a 3-jaw lathe chuck.
Captive, web-shaped design eliminates the danger of using spacers or parallels that could come loose and be thrown from a spinning chuck. Three strong magnets further secure the stop to the chuck face.
Stop allows short parts to project past the chuck jaws, providing clearance
for facing operations.
Setup time is greatly reduced - no need to bore soft jaws.
The Royal Chuck Stop is very accurate - front and back locating surfaces are parallel within +/- 0.0004".
Accommodates chuck jaws up to 55mm (21/8") wide.
Anodized finish provides good wear-resistance.
Available in 15, 20, 25, 30 and 35mm stops
---