Product Announcement from RUD Chain, Inc.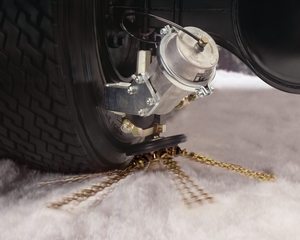 ROTOGRIP®, RUD's automatic chain system with a universal mounting system is quick and easy to install. ROTOGRIP® chain wheels are designed to work in forward and reverse and provides excellent traction at low speeds (3-4-mph) due to the adjustable mounting system and unique chain wheel. With replaceable contact rings, easy installation, and superior design the ROTOGRIP® system is an ideal choice for travel in winter conditions. ROTOGRIP® systems are available for a wide range of vehicles and suspensions.
RUD-ROTOGRIP® For medium and heavy-duty vehicles
Simple to install
A variety of simple installation options
Universal adapter
Safety at the flip of a switch
Rotogrip wheels may be applied from either side: no fixtures on either left or right
Smooth-running
During incremental braking, some of the many strands of chain are always effective
Low speed and reverse operation
Manufactured by a company known for quality from over 100 years
Chain Wheel with 6 / 10 /18 chain strands
RUD-ROTOGRIP® III Traction in a compact space saving design
The ROTOGRIP® III has a compact space saving design that is available for light-duty vehicles with or without an on-board air system. It operates in forward and reverse and at low speeds and is available with electric or air activation.

Optional:
Air compressor assembly available for vehicles without an air supply.
Chain system in compact, weight saving design.
Chain wheel with 8 replaceable case hardened stainless steel chain strands ensure ideal traction.
Chain wheel's flexible spreader ring gives low speed performance and uniform distribution of the chain strands.
Chain Strands are fully effective at speeds from approximately 3mph in both forward and reverse.
RUD-ROTOGRIP® CS Traction for low profile vehicles
The Rotogrip® CS has been specially designed for commercial vehicles and buses with limited space for fitting chains. CS stands for "Compact Solution", and emphasizes that the new Rotogrip® can even be fitted alongside low profile tires and pneumatic suspension components.
Compact, forged steel, swivel housing
Integrated, patented, "flexible piston rod"
Increased swivel area
Minimal maintenance
Vehicle-specific adapter
Low-profile design
Easy, time-saving fitting
Please contact RUD Chain, Inc. for additional information or to place an order.
You have successfully added from to your part list.
You need Flash player 8+ and JavaScript enabled to view the Safety at the press of a button... ROTOGRIP® video.
Get the Latest Flash player.
---