Cryogenic Freezers
Product Announcement from Russells Technical Products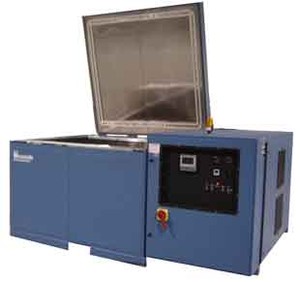 The CB Series from Russells Technical Products
Russells CB series cryogenic freezers are capable of achieving temperatures of -300º F to +500º F. To be able to withstand this extreme temperature difference, Russells has incorporated special construction techniques in addition to welded structural steel framing and heavy duty welded stainless steel liners. As with all Russells cryogenic freezers, we are continuously striving to provide you, our customers, with the best ultra cold freezers available. Since 1972, our freezers been used in liquid nitrogen cryogenic freezing applications around the globe, adding continually to a cryogenic knowledge base that is second to none.
We offer a complete range of cryogenic freezers found in the table below to reliably preserve your samples. A Russells application engineer can assist you in selecting the freezer configuration and size that's best for you or we can custom design any standard freezer configurations.
Applications
Ccryogenic Treatment of Steel Components
Tissue Preservation
Cancer Research: Tumor Cell Preservation
Blood or Bone Marrow Preservation
Bacteria Research / Virus Preservation
Sperm and Fertilized Ovum
Pollen and Plant Cell Preservation
Monoclonal Antibody Preservation
Environmental Experiments
Superconductivity Research
Electronics Experimentation
Standard Nitrogen Freezer Features
Cabinet
Continuous TIG welded type 304 stainless steel liner is vapor tight. Standard freezer floors are capable of supporting 300 PSF uniform static load
Insulation
Liquid nitrogen vents
Freezer Drain
Welded structural frame with removable service access
panels
Steel tube base for fork lift handling
Air lift lid (all models) with pneumatic safety system
Special gaskets to withstand -300º F
Special heated mullion to eliminate frosting
Durable blue enamel finish (custom colors available)
Cooling
Customer supplied liquid nitrogen vaporized through stainless steel spray manifold and nozzles
Manifold located in fan plenum, LN2 is not sprayed directly on parts
Low pressure supply (20psi) is controlled by cryogenic solenoid
Low pressure supply provides most efficient use of liquid nitrogen
Redundant safety solenoid valve
Air circulation by propeller type fans with externally mounted motors
Low temperature fail safe limit
Electrical
All wiring meets N.E.C. Standards
System branch circuits individually fused
115 volt control circuits
System function switches and indicating lights
System fault
All wiring color coded and labeled
High temperature fail safe limit
Controls
Temperature control provided by 945 microprocessor based controller
Optional Accessories:
Electric heat to + 500º F
Recorders
Cycle timer
Cycle timer with beacon
Seven day timer
Access ports
Running time meter
Electric defrost
Compressed air conditioning unit
Main power disconnect
Electrical enclosure with primary power interlock
Casters
Conveyor systems
Industrial electrical and control system
About Russells Technical Products:
Russells environmental test chambers give you the testing tools you need to maintain your competitive edge in today's global marketplace that demands quality. You can choose your environmental chamber from our wide variety of standard models or we can custom design one to your exact specifications. Since 1972, our environmental chambers have been used throughout industry to test everything from semiconductors to semi-trucks.
---