Environmental, Humidity & Stability Rooms
Product Announcement from Russells Technical Products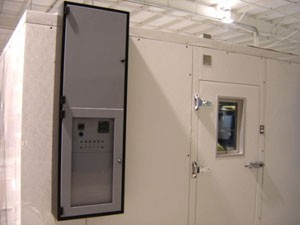 Since 1972, Russells has utilized its expertise in refrigeration and air conditioning technologies to manufacture environmental rooms which can maintain -40° F on a continuous basis or chambers which can reach as high as 185° F. These test systems can be supplied with temperature and humidity PID controls or with computerized data acquisition and control systems. They allow customers to undertake long-term stability testing, accelerated testing, humidity testing, comparative stability testing, forced long-term stability testing and stability of active pharmaceutical ingredients. Our environmental rooms and incubators are designed to meet FDA and ICH guidelines for stability testing and storage. They're installed in facilities around the world where technicians can reach-in, walk-in or even drive-in to conduct a wide variety of simulation testing. We use the highest quality components in fabrication to ensure that our environmental rooms continue at top performance for many years.
A Russells application engineer can assist you in selecting the environmental room configuration and size that's best for you or we can custom design from our standard configurations.
Applications for Our Environmental Rooms:
Biological/Biotechnology Research
Pharmaceutical Stability
Shelf Life Experiments in the Food Industry
Entomology (Insect Rearing) Research
Industrial Environmental Testing
Crop Science
Soil Science
Laboratory/Medical
Electronic Burn-In
Seed Storage
Plant Growth
Consumer Product Testing
Archival Storage
Cold Storage
Features:
Many Standard Sizes
Reach-In, Walk-In or Drive-In Environmental Rooms
Custom Sizes Available
Ozone-Safe Refrigerant
Prefabricated for On-Site Installation
User-Friendly Controls
Can Be Relocated
Standard Features
Construction:

Prefabricated urethane insulated panels, modular
design is field assembled.

Hardware:

Hinges and latches heavy duty polished castings

Doors:

Doors are available in several standard sizes including widths of 34", 36", 42", 48", and 60". Double doors can be provided

Finish:

Room finish and materials are available in many
combinations including aluminum, galvanized steel and stainless steel. Custom colors can be provided.

Instrumentation:

Many instruments are available. A microprocessor based P.I.D. with digital display in C or F control system is used. Programmers and communications can be provided

Relative Humidity and Temperature:

Relative humidity is controlled by a microprocessor based P.I.D control system with a digital display in % RH. Electronic sensors are used.

Lighting:

The room temperature and application will determine the lighting method. Incandescent and fluorescent fixtures can be provided.

Refrigeration:

Ozone safe, can be air or water cooled. Outdoor units are also available.

Heating:

Low mass nichrome wire elements are used to provide fast response and long life.

Safety Controls:

High and low temp safety controls are provided. They include visual and audible alarms.

Options:

Dehumidification
Recorders
Windows
Access Ports
Installation
About Russells Technical Products:
Russells environmental test chambers give you the testing tools you need to maintain your competitive edge in today's global marketplace that demands quality. You can choose your environmental chamber from our wide variety of standard models or we can custom design one to your exact specifications. Since 1972, our environmental chambers have been used throughout industry to test everything from semiconductors to semi-trucks.
---