NEW EMC-4 Cable Glands and Lock Nuts
Product Announcement from SAB North America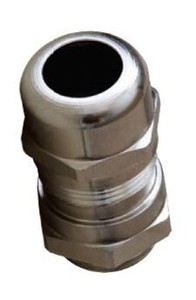 EMC-4 Cable Glands are made from Nickel Plated Brass. They have been developed from customer's exacting demands and accept a wide range of cable diameters. They provide excellent EMC characteristics as well as superior performance under vibrating conditions such as wind turbines. SAB offers Cable Glands with a special Lock Nut designed to guarantee excellent contact with the electrical enclosures. The product family offers IP68 sealing and they are available in a wide range of sizes in Metric, PG, and NPT.
The features of this range include:
Easy insertion with bi-directional cable entry
Open EMC contact fingers for ease of cable positioning during assembly.
Free radial and axial movement of the cable without any damage to the cable screen.
Large contact surfaces of the fingers allow for low contact resistance even on loosely woven cable braids.
The construction of a 4 piece fitting is fully adapted to the conduit and guarantees an IP67 watertight connection. For cable hose fittings even an IP68 protection can be obtained. In addition, the use of nickel-plated brass guarantees high corrosion resistance.
For clarifications, details or explanations about our products and how they can be used in your specific applications, give us a call. Our technical staff stands ready to assist you with your wire and cable needs!
---