SAB Cleanroom Cables
Product Announcement from SAB North America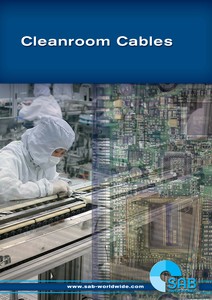 The Clean Room Rated Cables are well suited for various, wide ranging industries such as semi conductor, pharmaceutical, food processing and other areas requiring strict adherence to Cleanroom type certified applications.
SAB has always been noted for their high quality oil resistant, coolant resistant and chemical resistant control and continuous flex cables with stock available off the shelf. With an offering of flexible specialty cables including Servo, VFD, Bus, Tray, Silicone, Robotic, Halogen Free, Solar, Windpower as well as custom cables, SAB is ready to serve your needs.
For clarifications, details or explanations about our products and how they can be used in your specific applications, give us a call today! Our technical staff stands ready to assist you with your wire and cable needs.
---