SAB North America Halogen-Free Cables
Product Announcement from SAB North America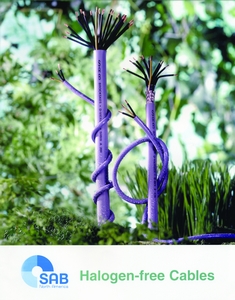 SAB North America, a leading supplier of flexible high quality cable for robotics and automation, offers a comprehensive, complete line of Halogen-Free Cables.
They can be used in a wide range of applications from machine tools, assembly lines, control systems, and data processing equipment to CNC machining centers, grinding machines and bottling equipment. Halogen-free cables are flame retardant, have a lower smoke density, have no flame propagation, and will not emit corrosive or toxic gases if burned.
The cables are highly recommended where there is a potential high risk for property damage or loss of human life due to fire. SAB's line of SABIX cables are completely free of chemicals such as bromine, iodine, fluorine and chlorine of high avidity, and present clear advantages when used instead of PVC cables.
For clarifications, details or explanations about our products and how they can be used in your specific applications, give us a call today. Our technical staff stands ready to assist you with your wire and cable needs!
---