SAG RFID-UHF On-Metal Stick Tag 860~960MHz
Product Announcement from (SAG) Securitag Assembly Group Co., Ltd.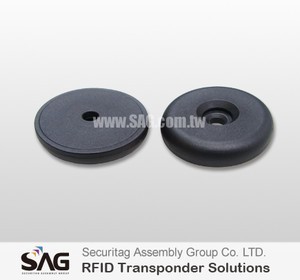 With a central hole, it can be fixed on objects for mechanical equipment management, inventory control and asset tracking…etc. UHF On-Metal Stick Tag is built by over moulding, a more durable and ground-breaking method in UHF tag assembly. Thus, harsh environment, heat, cold, pressure and chemistry are no opponent to this tag.
‧Diameter: 34 mm
‧Thickness: 6 mm
‧Working Frequency: 860 ~ 960 MHz (Gen 2)
‧Reading Range: Depending on the reader design
‧Material: PA6
‧Operating Temperature: -40 to 85 (Centigrade)
‧Storage Temperature: -40 to 100 C for 72 Hours / Up to 220 C for 30 Mins
‧Assembly: Injection Moulding
‧Protection Class: IP68
‧Standard Color: Black
‧Approx. Weight: 7 g
---