High-Throughput Print Engine, Around the Clock
Product Announcement from SATO America, Inc.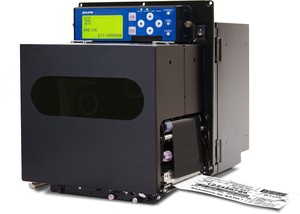 The SATO S84 Series OEM print engines are the latest generation of SATO's industry leading, high duty-cycle, print apply print engines. Building upon SATO's tradition of quality and reliability, and adding a number of new and unique features, the S84 series offers users the most advance print apply print engine on the market today.
Boasting print speeds up to 16 ips, 16MB of onboard RAM and high speed data processing, the SATO S84 series engines offers best in class time to first label out. Meaning your label gets where you need it, when you need; even when variable data makes every label unique.
Not sure if your application will require 203, 305 or even 609 dpi resolution? Not a problem. The S84 series offers all three print resolutions in an interchangeable printhead design.
The S84 print engines offer optional ribbon saver and ribbon cassette. The ribbon save option raises the printhead and stops the feeding of ribbon while the label dispenses past non-printed areas. This can result in significant cost savings as ribbon is only consumed during actual printing. SATO's unique new quick-change ribbon cassette option allows a user to have a pre-loaded ribbon cassette available for use. When the in-use ribbon cassette is empty, or near empty, it is disengaged from the printer and the pre-loaded cassette is quickly and easily inserted in its place. The empty ribbon cassette can now be pre-loaded with new ribbon while the production line is running.
The S84 print engines expand on SATO's unique plug-in communication interface design by offering a multi-port configuration option. The multi-port option allows any of the S84 printers to be configured with up to two communication ports including IEEE1284 parallel, RS232C serial, Ethernet LAN, Wireless LAN 802.11g, RS422/485 or USB.
With loads of new features and a legacy of reliability, these print engines continue the legendary SATO leadership in the print apply market.
---