Retail Tag & Label Printer - TG3 Series by SATO
Product Announcement from SATO America, Inc.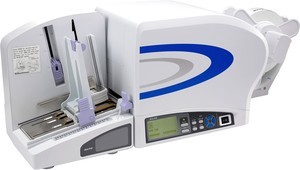 SATO's TG3 Series printers are designed and built especially for retail industry applications, ideal for tagging and labeling apparel, accessories, housewares, furnishings and much more.
The TG3 Series thermal and direct thermal printers enable retailers to create brand identity awareness by producing high quality, attractive tags that may include brand name, brand logo, brand tagline, product ID, company URL, etc. Also, users can create tags or labels to display important and functional product information such as price, price markdowns, inventory clearance items, product SKU and PLU, product origin, and size/style/gender ID.
The TG3 Series features an automated print-cut-stack function for hassle-free printing, separation of tags for batch printing (by cutting the first tag longer or using the ink ribbon mechanism to place an ink mark on the side of each batch separator tag), energy-saving LCD display, precision cutting of tags/labels, and the ability to perform standalone printing using the optional keypad.
High speed printing up to 10 ips (inches per second), support for tags up to 0.33mm thick, a large user-friendly LCD display, and a variety of plug-in interface cards including USB, LAN, WLAN, Parallel, and RS-23C2 (Serial) are important additional features of the TG3 Series.
"Once again SATO's focus on innovation creates an affordable and feature rich solution to facilitate in-house markdowns and in-store promotions," said Gary Krause, SATO America's Director of Marketing. "Studies have shown that nearly 40% of retailers now facilitate their mark down needs manually with hand written markings and some dedicate sales floor staff to this task. Manual markings are not a visually pleasing procedure. They diminish the stores branding and increase the potential for employee mistakes and loss in profitability. SATO's new TG3 Series will help retailers enhance the customer experience and allow for accurate inventory management, sales accuracy, and improved employee productivity."
Label & Tag Apps
• Price Markdown
• Inventory Control
• Product Identification
• Security
• Shelf Labeling/Tagging
• Asset Management
Features
• Direct & Thermal Transfer
• Up to 10ips Print Speed
• Standalone Printing
• Print, Cut & Stack Media
• USB / LAN / WLAN Communication
---