Sound Pressure Speaker
Product Announcement from Scantek, Inc.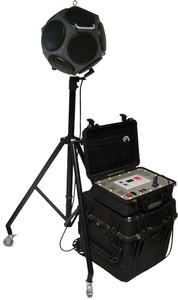 Scantek Inc. - The AP602 comprises of a small size and lightweight white and pink noise generator, 1/3-octave band graphic equalizer and a power amplifier. Thanks to its noise generator output and the signal input, the AP602 allows equalizing and amplification of a signal coming from an external noise generator or by inserting additional signal processing equipments in the reproduction chain. The AP602 can be operated directly from the keyboard, through a MA001 remote control (with AN001 antenna) or by a PC with the included software. This communication with the PC can be done through USB cable or through type 1 included Bluetooth® wireless technology, with up to 80 meters coverage.
1/3-octave band graphic equalizer included

Reduced size: 350 x 300 x 150 mm
Lightweight: 4.75 kg
Bluetooth® wireless technology incorporated
MA001 remote control included
123 dB PWL (With omni-directional loudspeaker BP012)
The BP012 has 12 loudspeakers, ensuring an omni-directional noise emission; thus complying with the standards ISO 140 and ISO 3382.
The BP012 can develop 123 dB of sound power level in the third octave bands between 100 and 5,000 Hz. The loudspeaker has been designed to supply the maximum power for one hour.
The BP012 is internally reinforced with an aluminium core that makes it robust and allows it to be adapted it for the TR012 tripod.
The BP012 is supplied with the amplifier connection cable CN012 and the flight case FL012.
---