Noise Source Identification... Acoustic Camera
Product Announcement from Scantek, Inc.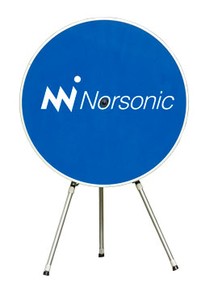 Norsonic is proud to present an acoustic camera with outstanding performance. The Nor848 is quick and easy to set up before the noise analysis is performed. Both live intensity plots, as well as post processed analysis, are available with the user friendly software package that runs on the enclosed state-of-the-art MacBook Pro computer.
A total of 225 microphones as well as a wide-angle high-performance video camera are included in the antenna system
Simple connection to the enclosed MacBook Pro computer through a simple LAN-cable
Operated on mains or 12Vdc input
User friendly software with all required functions for overall and detailed analysis of complex noise situations based on beam forming formulas giving up to 30 dB ranges
Overall, 1/1-octave, 1/3-octave and FFT analysis available
User defined analysis range covering up to 30 dB dynamic
Color intensity plots based on level or frequency
Selectable upper and lower frequency limits
Live waterfall plots
Crop feature for limited analyzing area
Direct output of analyzing views to PDF report
---