Critical Components for Marine & Defense Systems
Product Announcement from SCHOTT North America, Inc. - Defense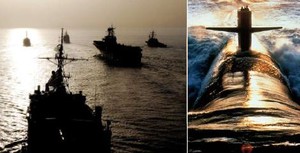 SCHOTT's commitment to ensure the safety and advance the capability of the military goes deep - from nuclear submarines and carriers to underwater and surface mine detection systems.
Our image sensors assist with more effective surveillance. Our strict adherence to a higher standard of manufacturing allows our materials to perform in the most extreme conditions. We provide radiation-resistant and radiation-shielding glass, filter glass for laser protection and a zero-expansion glass-ceramic for thermally demanding environments. From micro-displays to electrical penetration assemblies, SCHOTT is on top of the latest technologies.
SCHOTT Electronic Packaging develops, produces and supplies hermetic packages for the protection of sensitive electronics and large hermetic penetrators for bulkheads in nuclear powered carriers and submarines. Our hermetic packages, including hybrid packages, transistor outlines (TO) and other demanding feedthroughs are made of highly reliable glass-to-metal seals (GTMS) or ceramic-to-metal seals (CerTMS, CerTO).
---