Designed to Serve - In Every Field
Product Announcement from SCHOTT North America, Inc. - Defense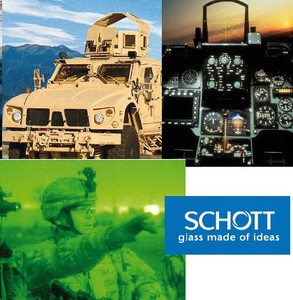 SCHOTT's innovative and high-quality products have been helping the US to improve the reliability and effectiveness of its military equipment for more than 40 years. With its own R&D center and production sites in the US, the company is extremely well-positioned to serve the world's largest defense market.
SCHOTT supplies high tech materials and components for defense and security applications worldwide, particularly in the areas of vehicle armor, fiber optics, optical glass, hermetic glass-to-metal-seals and glass-ceramics.
DiamondView™ Armor Window Systems technology delivers exceptional protection against blasts and projectiles. SCHOTT transparent and opaque glass-ceramics provide unique performance benefits for armor applications including significant weight savings, UV filtering, and resistance to thermal cycling
Our electronic packaging encompasses everything from glass-to-metal hermetic feedthroughs, headers and connectors to glass-to-metal and ceramic-to-metal sealing and thermal sensing components. When the demand is for uncompromising performance, our products dramatically improve radar control systems, gyroscopes and batteries.
We provide radiation-resistant and radiation-shielding glass, filter glass for laser protection and a zero-expansion glass-ceramic for thermally demanding environments. From micro-displays to electrical penetration assemblies, SCHOTT is on top of the latest technologies.
Examples of our areas of expertise include optics for night vision systems, controlled illumination glass for avionics and other display packages, and camera systems.
$120 million each year for Research & Development. More than 800 highly qualified employees worldwide are actively involved in research
Learn more about the comprehensive range of materials, technologies and products Schott provides to the defense sector in this pdf brochure
---