Electronic Packaging
Product Announcement from SCHOTT North America, Inc. - Defense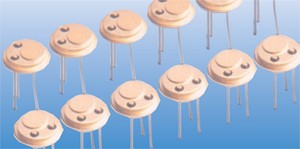 SCHOTT designs and develops glass and ceramic-to-metal seals (GTMS, CerTMS), special glasses and other types of electronic packaging and housing technologies for the defense and security industries.
SCHOTT's decades of military business experience and superior technological know-how ensure that these technologies provide exceptional levels of functional safety and protection to sensitive electronic devices and with critical power and instrument line penetrations.
SCHOTT's hermetic housing technologies utilize the company's extensive knowledge of special glasses and glass powder manufacturing techniques, sinter technology, special metal processing, joining techniques, interfacial reactions, plating operations and co-fired ceramic technologies (HTCC, LTCC).
SCHOTT's hermetic, vacuum-tight packages can be used for a variety of military applications:
Transistor Outlines (TOs) for semiconductor and hybrid packages for laser detection devices
Infrared and standard opto-electronic sensor packages
Opto-electronic communication packages, such as fiber-optic butterfly, pigtail and laser diode assemblies as well as optical receivers and transceivers
Stainless steel pressure sensor components for avionic braking systems
Power and relay packages for avionic electronics
AC-DC converter packages
Small clock quartz and standard quartz packages for electronic timers, frequency control and oscillator devices in mobile communication
Explosion resistant igniter feed-throughs
Large feed-throughs for nuclear containment (NPP) and submarine bulkhead penetrators (NPS)
---