Innovative Optics Defense & Security Applications
Product Announcement from SCHOTT North America, Inc. - Defense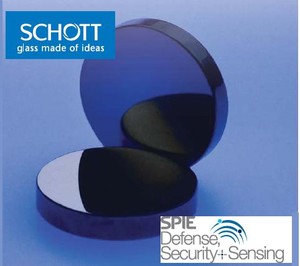 Schott Defense will be showcasing solutions in display, imaging, armor, sensors and electronics at SPIE's Defense, Security & Sensing conference and exhibition at the Baltimore Convention Center April 23 - 27th. See Schott Defense at Booth 1519
For over 40 years, SCHOTT has delivered a wide range of leading edge glass and glass-ceramic solutions for defense and security applications. SCHOTT's optics, fiber optic, armor material and electronic packaging products are being used in the field today to keep soldiers safe and to improve their effectiveness. SCHOTT stronger. SCHOTT safer. SCHOTT smarter.
Take advantage of these scheduled demonstrations
Optical Design and Assembly
SCHOTT Defense now offers advanced optical design and assembly capabilities, including conventional optics as well as incorporating SCHOTT's imaging fiber optics into optical and electro/optic design.
Date: Tuesday 24 April 2012 Time: 03:30 PM
New LG940 Laser Glass SCHOTT continues bring innovative laser glasses to the OEMs, enabling more efficient, higher rep-rate operations in "eye-safe" medical and range-finding applications at 1.54um.
Date: Tuesday 24 April 2012 Time: 04:30 PM
Chalcogenide Materials and Aspheric Infrared Optics SCHOTT now produces the IG family of chalcogenide glasses in the United States with validated optical and physical properties for imaging in the NIR through LWIR.
Date: Thursday 26 April 2012 Time: 10:30 AM
Broadband AR Coatings SCHOTT has added US capability for anti-reflective coating. Multiwavelength, Single wavelength, and Broadband Antireflection coatings for the UV, VIS, NIR are available.
Date: Thursday 26 April 2012 Time: 12:30 PM
Can't make it to Baltimore? Just use the links on the left to learn more about Schott's solutions in display, imaging, armor, sensors and electronics
You have successfully added from to your part list.
---