Nightvision Filters
Product Announcement from SCHOTT North America, Inc. - Defense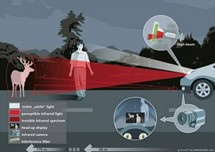 Head-up infrared night vision systems enable drivers to see as far as 150 m ahead of them without blinding oncoming drivers. Emitted infrared beams are reflected back towards an infrared camera, which then electronically transmits the images to a head-up display available to the driver. A night vision filter is used in these systems to block the visible light that is emitted by a halogen lamp, so that only the infrared spectrum can pass.

Benefits

There are no red light effects, as a result of the unique development by SCHOTT Advanced Optics which makes the visible light emitted by the halogen lamp appear whiter than red in a driving direction.

SCHOTT Advanced Optics' unique night vision filters have the following benefits:
A special layer design to change the color impression from red to white
Hard thin film coatings which are resistant to temperature changes
Highly effective blocking of the visible light spectrum
Extensive know-how regarding optimal combinations of color glass and coatings
Key Applications
Night vision filters are largely used in automobiles.
Forms of Supply
We can supply night vision filters in discs (polished and coated) and also in accordance with our customers' requirements.
Specifications
Night vision filters consist of a glass substrate upon which several thin layers with different refractive indices are deposited. The filters are adjusted according to the respective angle of incidence. In line with EU regulations, the emitted light lies within the allowed ECE spectrum for white light. Different reflector designs according to customers' requirements can also be provided.
Quality Assurance
We measure the color coordinate through a transmission measurement in a photometer.
---