Touch-Technology of Xensation™ Cover Glass
Product Announcement from SCHOTT North America, Inc. - Defense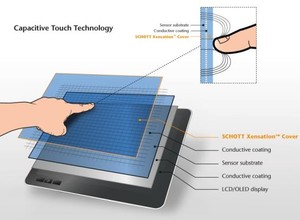 Advanced technology devices such as cell phones, laptop computers and tablets are part of the everyday life of the modern Marine, soldier, sailor and airman. With their intuitive touch-screen interfaces and flexible applications architectures, modern portable electronics enable the warfighter to make smarter and faster decisions," said Jim Stein, Vice President of Government Affairs for SCHOTT North America. "Xensation Cover ensures that these device displays stand up to the rigors of the barracks and the training range and can meet the ultimate test on the battlefield."
SCROLL DOWN TO SEE A VIDEO DEMONSTRATING SCRATCH RESISTANCE
The patented technology behind Xensation™ Cover includes floated and chemically-strengthened aluminosilicate glass, which has a very high bending strength, drop ball resistance and a compressive strength of more than 900 MPa. The tough cover glass can be delivered in thicknesses as thin as 0.55 mm, making the glass suitable for use in thin handheld devices, as well as ruggedized laptops and GPS units. Xensation™ Cover is also resistant to chemicals and environmental influences.
Use the links on the left to learn more

---