Ultra-Strong Cover Glass for Touch Screens
Product Announcement from SCHOTT North America, Inc. - Defense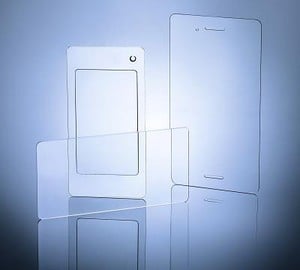 Designed to be the strongest, scratch-resistant cover glass available, SCHOTT Xensation™ Cover has the potential to transform the U.S. military's use of PDAs, smart phones, laptops and other devices by keeping mobile technology devices operable and displays readable in the field.
Customized development of Xensation™ Cover means that the cover glass can be produced in any size and a variety of thicknesses to meet any handheld device or display screen specifications, while meeting U.S. Armed Forces requirements, including MIL-STD-810 for sand and dust.
The patented technology behind Xensation™ Cover includes floated and chemically-strengthened aluminosilicate glass, which has a very high bending strength, drop ball resistance and a compressive strength of more than 900 MPa. The tough cover glass can be delivered in thicknesses as thin as 0.55 mm, making the glass suitable for use in thin handheld devices, as well as ruggedized laptops and GPS units. Xensation™ Cover is also resistant to chemicals and environmental influences
Use the links on the left to learn more and you can get more information on the product spectrum here: www.us.schott.com/xensation .
---