Ease of Design with Glass Piping
Product Announcement from SCHOTT North America, Inc. - Glass Tubing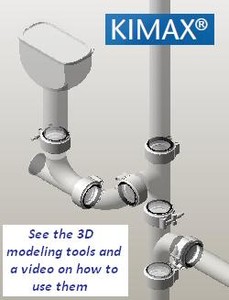 KIMAX® Glass Piping products are now available as virtual BIM (Building Information Modeling) objects for use in various 3D design and build software suites, including Autodesk Revit® MEP.

Click HERE to download our BIM object online.

Scroll down the page to view a walk through video of how to download and use SCHOTT Kimax Glass Tubing SmartBIM objects to spec out laboratory design.
Borosilicate glass, the material used to make KIMAX, is the same type of glass used in laboratory glassware and instruments the world over.
Borosilicate glass is impervious to almost every known corrosive and reagent also, acids that would destroy most plastics have no effect on it.
You can access full details at the links below
---