Laboratory Bottle..Wide Mouth
Product Announcement from SCHOTT North America, Inc. - Glass Tubing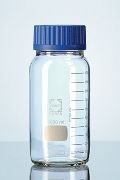 Schott - With an 80 mm wide outer diameter bottle neck, the DURAN GLS 80® wide mouth laboratory bottle is ideal for filling, pouring, shipping and sampling granulated material, powders and viscous substances. Complete with blue quick release closure (PP, integral lip seal) and pouring ring (PP) for drip-free pouring, this bottle has an easy-to-read scale and large labelling field for easy marking.
Service temperature limit of closure and pouring ring: +140 °C. Special thread means opening takes less than a turn.
In addition to the GLS 80® clear glass laboratory bottles, amber (absorbs light up to approx. 500 nm) and plastic-coated (absorbs light up to approx. 380 nm) bottles are also available to protect light-sensitive substances. The PU plastic coating also provides protection against scratching, leakage and splinters.
For more information, click HERE
---