Precision Drawn Tubing- Creative Profiles
Product Announcement from SCHOTT North America, Inc. - Glass Tubing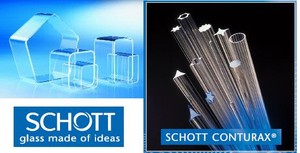 As an expert in the field of special glass, SCHOTT has succeeded in using its years of experience to develop a new type of non-round glass tubing: CONTURAX® Pro. Made from high-quality DURAN® borosilicate glass, this profile tubing with three or more angles is manufactured by a new, patented, continuous direct drawing process. This makes it possible to produce large quantities with uniform high quality and at an attractive price.
SCROLL DOWN TO SEE THE VIDEO

Product benefits and properties at a glance
High planarity and surface quality.
Geometric accuracy for precise working.
Direct manufacture in a continuous, patented drawing process.
Wide spectrum of shapes and dimensions, with the possibility of realizing customer-specified angles and asymmetrical forms.
Wide variety of surface finishes from smooth to profiled*
CONTURAX® Pro profile tubing also offers high transparency and thermal shock resistance, hard/smooth surfaces for the greatest resistance to scratches and tolerance of conventional cleaning agents.
Access the detailed brochure with all available profiles CONTURAX®
---