Glass Capillary Tubing...DENSOCAN®
Product Announcement from SCHOTT North America, Inc. - Glass Tubing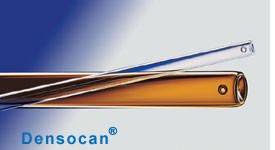 Glass capillary tubing for primary pharmaceutical packaging
SCHOTT's - extensive product line of borosilicate glass capillary tubing for the pharmaceutical packaging industry corresponds to the guidelines of the current international regulatoryauthorities. Some examples are Ph. Eur., USP, JP and international standards such as ISO 720, ISO 719 and ASTM E 438.
While manufacturers of primary pharmaceutical packaging specifically appreciate the reliable workability of our SCHOTT DENSOCAN® glass capillary tubing, their customers - the pharmaceutical companies - have other primary concerns. They are more concerned with the hydrolytic resistance of the glass as well as having a reliable supplier and risk management. SCHOTT understands these expectations and is now in the position to produce SCHOTT FIOLAX®, one of the best-quality special glass types for pharmaceutical packaging, in the same quality at 4 locations throughout the world.
The certification for our SCHOTT DENSOCAN® glass tubing, under EN ISO 15378:2007, which incorporates all GMP principles, is further evidence of SCHOTT's high standards of quality.
---