Tubular Gage Glasses
Product Announcement from SCHOTT North America, Inc. - Glass Tubing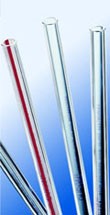 SCHOTT - Many years of experience providing Duran 8330 tubular gage glasses that are preferred in a wide variety of industrial and commercial applications.
Duran tubular gage glass is offered as Red Line, Standard, Heavy Wall, High Pressure, and Heavy Wall Red Line.
Diameters range from 1/2" OD to 1 1/2" OD. End finishes may be cut, ground, or fire polished depending on application.
Pressure ratings range from 90 psi to 600 psi depending on end finish, diameter, and length required.
Click Here to download more information about SCHOTT Tubular Gage Glasses.
---