Modular Assembly Technology with SCHUNK Gemotec
Product Announcement from SCHUNK Inc.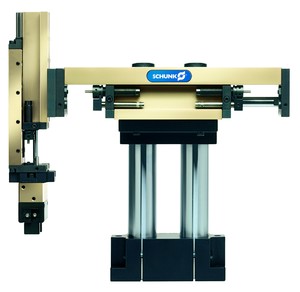 SCHUNK has expanded its already extensive product range of Automation Components by the acquisition of the firm Gemotec Montagetechnik in Bavaria, Germany.
The Gemotec system is a complete product line of modular assembly technology, consisting of pneumatically and electrically operated linear units, gripper modules and rotary actuators. The Gemotec components stand out with their high precision and modularity, and are used primarily in the assembly of small parts. These highly dynamic and accurate assembly solutions will easily adapt to any customers assembly automation needs with no special adapter plate designs. The application range is wide and varied, and extends from the production of electric switches, to the assembly of vehicle instrument panels and on to solutions for the packaging industry.
The comprehensive Gemotec product line is modular in design, and can be freely integrated with other components of the system. In accordance with the motto "combine instead of design", individual assembly solutions right through to complete functional assemblies are compiled with the use of an intuitive sizing software and without having to resort to special adapter plates or design.
For SCHUNK the acquisition of Gemotec represents the perfect complement to the existing product range, from which SCHUNK will achieve considerable synergies and significantly improve market coverage. Customers can now obtain an extended range of products combining linear, rotary and gripping systems, which can be assembled together with standard adapter plates from SCHUNK.
---