ROTA NCR Precision 6-Jaw Compensation Chuck
Product Announcement from SCHUNK Inc.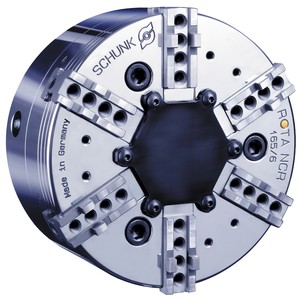 The clamping of thin-walled and easily deformed components is challenging. With its ROTA NCR 6-jaw compensation chuck,SCHUNK offers a standard solution for this type of workpiece. SCHUNK has now standardized the sizes of the ROTA NCR with diameters of up to 1200 mm and, in doing so, opened up the possibilities for precision workpiece clamping with large lathe chucks.
Over the years, SCHUNK has become one of the world's most valuable partners of the large-scale industry. Large chucks from SCHUNK are used wherever workpieces with very large diameters have to be clamped securely and machined with precision. These include tube ends for the petrol industry, threads on diamond bore heads, graphite blocks, train wheels, pump and valve housings - plus gears, pistons for vessel engines, and numerous other precision components.
The ROTA NCR consists of a central chuck piston, which has three inner pendulums positioned at 120°. Each pendulum is connected to two base jaws. The result is that the workpiece is centered between six contact points, which can be adjusted in pairs. The clamping forces are aligned towards the chuck center. Thus, even pre-machined parts can be perfectly centered without deformation of the workpiece.
This arrangement permits maximum roundness of workpieces with conventional jaw clamping. The SCHUNK ROTA NCR is also available with centrifugal force compensation. A standard clamping cylinder is sufficient to actuate the lathe chuck.

The ROTA NCR is available in the sizes 165, 200, 250, 315, 400, 500, 630, 800, 1000 and 1200 mm. SCHUNK large chucks can be employed on virtually all known lathes. In addition, extremely small chips, dust or huge quantities of coolant, as produced during the machining of gray cast iron, do not bother SCHUNK lathe chucks.
---