See Video - High Torque Universal Toolholder
Product Announcement from SCHUNK Inc.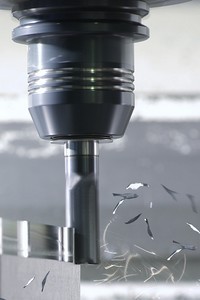 For the first time ever, hydraulic expansion toolholders can safely transfer torques of up to 520 Nm (384 ft-lbs) at a 20 mm clamping diameter and are perfectly suited for high volume cutting. With excellent vibration damping and precise run out accuracy of less than 0.003 mm (0.0001") at 2,5 x D, this innovative holder protects the machine spindle and the cutting tool from damage. The economic hydraulic expansion toolholder works well across the application range from rough milling to finish operations such as reaming and fine milling.
Users who used side lock holders can now breathe a sigh of relief: In roughing operations, tool cost reductions of up to 40 % have been achieved with TENDO E compact. Tools can be quickly changed with an Allen key, making this powerful hydraulic expansion toolholder an excellent alternative for operations where the toolholder quantities do not justify peripheral equipment purchases.
All common spindle connections are available for ¾" interfaces HSK-A63, HSK-A100, SK40, SK50, BT30, BT40. BT50 CAT40, CAT50, JIS-BT30, JIS-BT40, and JIS-BT50.
---