See Video of Fastest Pick & Place Unit
Product Announcement from SCHUNK Inc.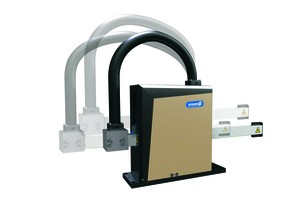 The new SCHUNK Pick & Place unit PPU-E30 is ideally suited for highly dynamic pick & place applications that require a large degree of repeat accuracy. With an amazing cycle time of 0.58 seconds, including switching and gripping times at a 40 mm vertical stroke, a 120 mm horizontal stroke, a moving mass of 2 kg and a repeat accuracy of less than 0.01 millimeters, it is setting benchmarks in assembly automation.
All the utility lines for power supply, sensor, and pneumatic systems for the PPU-E30 are plugged into the rearward stationary connection. No sensitive moving motor cables are required.

The narrow housing as well as the media supply via the back panel, allow a compact, maintenance- and assembly-friendly side-by-side construction of several units next to each other. Two integrated linear encoder systems control the vertical and horizontal motion and assure a high repeat accuracy. Intelligent regulators control the cantilever arm as well as the actuators without a higher-ranking control unit. The required software is already integrated, thus the unit can be set up by simple Plug & Play.

Up to six integrated valves, operated by one single air feeding, supplies all the pneumatic actuators. This minimizes the compressed air and consequently the energy consumption, and provides an enormous cycle frequency.
Your added value:
Maximum precision - Cycle times 0,58 s, Repeat accuracy < 0.01 mm
Compact design -Simple mounting ideal for side-by-side assembly
No moving motor cables - No wear, maximum process safety
All in one - Plug and play solution from a single source
Modularity - Can be equipped individually
To discuss your specific Pick & Place automation requirements contact Schunk today!

Play See Video of Fastest Pick & Place Unit Video on YouTube
---