ZENTRICO THLplus - New range of steady rests
Product Announcement from SCHUNK Inc.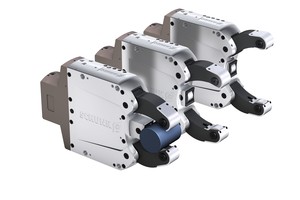 SCHUNK Inc. introduces a new line of steady rests and now offers a broad range that can support diameters from 0.157 inch to 18.110 inch. The ZENTRICO THLplus has been redesigned to offer higher body stiffness, better centering accuracies with greater clamping forces. These improvements enhance the machining process by offering the workpiece the best support with minimal vibration and therefore will allow the production of better workpiece size and finish along with improvements in tool life.
The ZENTRICO THLplus steady rest has optimized lever kinematics that maximizes clamp force while offering a wide clamp range. Integrated roller flushing is also a new feature where the machine coolant is used to ensure that no contamination comes between the roller and the workpiece. Together with central lubrication, new contamination barrier, available side mounted cylinders, stroke monitoring, and swing–out upper lever arm, the ZENTRICO THLplus setting the new industry standard for steady rests.
The ZENTRICO THLplus' thin design also incorporates an oval piston cylinder that helps to minimize the space required to use the steady rest, but the mounting configuration is standard to fit on all machine tool brackets. Multiple hydraulic connections are placed to ensure that retrofit can easily be done with the use of existing hose and fittings.
SCHUNK's new ZENTRICO THLplus steady rest should always be considered when the geometry of the part or the machining parameters dictates the use of a steady rest.
---