Product Announcement from SKF Condition Monitoring Center - Fort Collins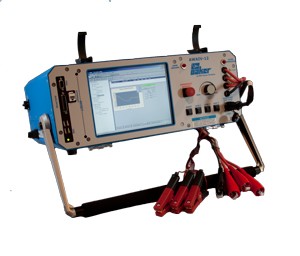 Overview

The AWA predictive maintenance solution from Baker Instrument Company, an SKF Group Company offers a great deal of flexibility in providing fault recognition in convenient instrumentation. The AWAIV instruments integrates a wide range of electrical tests at multiple voltage levels from 2kV to 12kV. These instruments supports all major electric tests in a single field portable unit including Surge, DC HiPot, Step Voltage, Continuous Ramp, Meg ohm and Winding Resistance. These instruments comply to IEEE recommendations.
Improved testing capabilities: Continuous Ramped HiPot, Enhanced reference Surge waveform, Improved PI/DA test, Improved DC HiPot, Improved Resistance Test, More sensitive Surge test.
The AWAIV has been designed around PC104 technology that allows the instrument to work efficiently without fans to cool the processor. This computer performs all requested tests, stores the results, and continuously monitors voltage levels while testing. If the computer detects a weakness in the insulation, the test is interrupted, the operator is alerted, and all test parameters at the time of the interruption are reported. These instruments performs this operation in microseconds with a higher degree of precision and safety than can be achieved through manual testing.
The AWAIV is a high-voltage tester that can be pre-programmed in the office and implemented in the field. Pre-built work orders or routes define which motors to test, the order of execution, and parameters for each test including voltages, duration and pass-fail limits. Operators can then conduct tests in the field simply by connecting to the pre programmed motor, ensuring a higher degree of reliability in testing procedures. This allows repeatable maintenance testing, which is vital to a successful PM program.
When testing is complete, results can be saved as part of each motor's permanent test record. This kind of documentation is critical to a successful reliability program. With the AWAIV, test results are collected, stored, recalled and managed using standard MS Access® relational database format. Reports can be generated for trending, insurance requirements for customers through the AWA software or MS Word® file formats. These database files make it easy to transfer information to maintenance management software or other database tools and Access® is ODBC compliant.
The AWAIV incorporates advanced inter-turn capabilities in a field portable instrument. Computer control and waveform monitoring are dramatic enhancements of the manually controlled instruments previously available. As with the DC HiPot test, the AWAIV begins surge generation at low voltage. Each pulse applied to the winding is digitized and the resultant waveform is compared to previous waveforms to detect any signs of turn-to-turn shorting. Comparison is done by the patented Pulse to Pulse Error Area Ration (PP-EAR) technique. This method is sensitive to less than a 1% variance between coils. In addition, shorts among windings in parallel can be located, something that was never possible before by visually comparing waveforms. With the AWAIV, fewer pulses are applied to the winding, reducing the power required to perform the surge test. Since each and every pulse is analyzed, it becomes the new reference waveform as test voltage is increased up to the specific withstand level. If no turn-to-turn weakness is detected, the final pulse waveform is stored as the reference waveform for all subsequent tests.
You have successfully added from to your part list.
---