Contaminant-free compressed air for pneumatics
Product Announcement from SKF/North America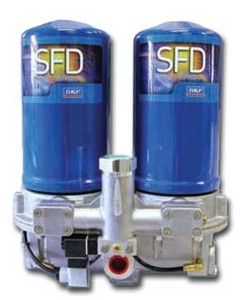 Contaminant-free compressed air for pneumatics
The SKF® "SFD" dryer system is uniquely engineered for industrial applications to deliver compressed air free of oil, contaminants, and water. In conjunction with large air compressors and systems, this compact unit dries compressed air for pneumatic applications directly from the tank, eliminating a need for after-coolers and additional external filters. The system also can be mounted on small air compressors or at point of use.
Applications for this separator-filter-dryer technology include concrete plants, warehouse operations, automotive paint booths, general manufacturing facilities, and others wherever an uninterrupted supply of clean, dry compressed air is critical.
The SFD dryer incorporates a 3-in-1 system to remove oil, contaminants, and moisture with standard units operating up to 175-200 psi. A compact design enables easy and flexible installation on a wall or directly on a compressor's top plate. Units can be supplied for 12VAC, 24VAC, and 120VAC, or fully pneumatic requiring no electrical connection. All can serve whether in high or low ambient temperature conditions.
These environmentally efficient units perform without refrigerant, heat exchanger to clean or maintain, or condensate drain line and typically require less than 10 percent of air for regeneration. Basic flow rates up to 40 CFM can be achieved (and higher by combining units for large CFM applications). All units can be customized to satisfy specific application requirements.
Contact SKF USA Inc., 1510 Gehman Road, Kulpsville, PA 19443. Phone: 800-440-4SKF (toll-free). E-mail: skfusainfo@skf.com Web site: www.skfusa.com
You have successfully added from to your part list.
---