'Y-bearing' mounted units..extreme temperatures
Product Announcement from SKF/North America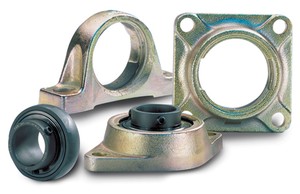 High-performance solutions with SKF® 'Y-bearing' mounted units
SKF® 'Y-bearing' mounted units engineered for extreme-temperature applications
SKF® "Y-bearing" mounted units perform reliably at low speeds with temperature extremes up to 350º C (660º F) or as low as –150º C (–238º F) and can withstand widely fluctuating and large temperature differences. Typical applications include conveyor systems for ovens, industrial furnaces, kiln trucks, high-temperature fans, and others where service life of normal rolling bearings is unsuitable due to the severe conditions.
These housed ball bearing units feature large radial internal clearances consistent with expected operating temperatures; specially designed cages of steel or graphite; and pressed steel shields and flingers at both sides to repel solid contaminants. All bearing surfaces are treated with manganese phosphate to protect against corrosion and improve running properties.
Three different housing styles include:
Pillow block
Flanged with square housing and four bolt holes
Flanged with oval housing and two bolt holes
All units are made from gray cast iron for ruggedness and durability.
Y-bearings for extreme temperatures are available in two different designs in inch and metric sizes. Bearings do not require additional lubrication. Customized solutions can be developed to satisfy particular application requirements.
Contact SKF USA Inc., 1510 Gehman Road, Kulpsville, PA 19443. Phone: 800-440-4SKF (toll-free). E-mail: skfusainfo@skf.com Web site: www.skfusa.com
(SKF® is a registered trademark of SKF USA Inc.)
You have successfully added from to your part list.
---