Machine Condition Advisor...hand-held
Service Detail from SKF/North America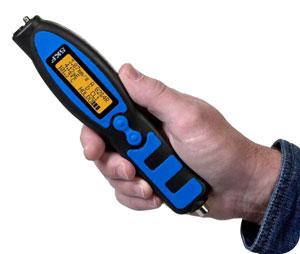 Machine Condition Advisor provides early failure warning
The SKF Machine Condition Advisor is a rugged, easy-to-use, hand-held device that simultaneously measures vibration signals and temperature to gauge machine health, identify bearing damage, and provide early warning of machine problems before a costly breakdown occurs.
Essential plant equipment such as pumps, fans, motors, compressors, gear boxes, cranes and conveyors used in manufacturing processes rely on bearings to keep machines running and production moving. By using SKF Machine Condition Advisor to measure bearing activity for changes in vibration and temperature, operations or maintenance staff can detect an imminent machine failure before it results in lost production and unplanned downtime.
The SKF Machine Condition Advisor simultaneously measures vibration signals from 10 to 1000 Hz and temperature from -20°-200 °C (-4° to 392° F) and displays the values in Metric or English on a bright backlit LCD. The Advisor is ergonomically designed and uses an environmentally friendly rechargeable Lithium ion battery. An optional external vibration sensor with magnet is convenient for hard-to-reach surfaces and more repeatable and accurate measurements.
The Advisor automatically compares the velocity measurements to pre-programmed International Organization for Standardization (ISO) standards and uses industry proven Enveloped Acceleration technique to measure vibration against established bearing vibration guidelines. An "Alert" or "Danger" alarm is displayed when measurements exceed those guidelines, indicating potential bearing damage. The infrared sensor simultaneously checks bearing temperature for abnormal heat that may indicate a lubrication problem. These features provide time savings, diagnostic confidence and can improve machine reliability.
According to Torsten Bark, Product Line Manager at SKF Reliability Systems, "The Machine Condition Advisor is a good fit whether a facility is just beginning a predictive maintenance program or wants to supplement their existing condition monitoring program. New users can be confident because their readings are automatically compared to established standards or backed up by experienced analysts using SKF data analyzers for further analysis. The Advisor has multifarious functionality with over 100 years of SKF knowledge engineering behind it."
Contact your Authorized SKF Distributor for more information on SKF Machine Condition Advisor, or visit http://www.skf.com/mca
You have successfully added from to your part list.
---