Hybrid Ceramic Ball Bearings- Wind Generators
Product Announcement from SKF/North America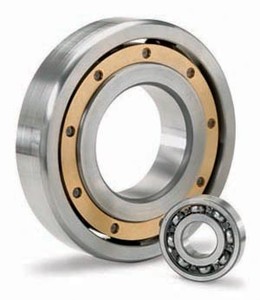 Solutions for wind power generator applications
MRC® hybrid ceramic ball bearings from SKF USA Inc. have been introduced in extra-large bore sizes ideally suited for wind power generator applications. These bearing solutions combine traditional 52100 steel rings precision matched with silicon nitride (ceramic) balls offering inherent insulating properties to protect against electrical arcing and potential bearing damage.
The high-performance bearings are specially designed to fit new or installed turbines, which are prone to electrical arcing from the passage of electric currents. Such arcing can result in surface damage to bearing raceways, excessive noise, and premature lubricant aging leading to potential bearing failure, generator breakdown, and unplanned turbine downtime.
Compared with all-steel bearings, these types additionally are lighter, harder, and more durable. They can perform at higher speeds and lower operating temperatures and exhibit superior wear resistance to promote optimized performance and longer service life.
Their ceramic balls are 40% less dense than steel balls for reduced centrifugal force and friction, allowing them to run faster and cooler; harder than steel for enhanced wear resistance against hard particles, contaminants, and vibration; and highly inelastic for increased bearing stiffness and reduced deflection under load to promote reliable performance.
The extra-large bore sizes range from 100mm 160mm and can be engineered with seals and shields or otherwise customized through the MRC Made-to-Order (MTO) warranted products program.
CAD drawings of all types in the product line are available for downloading free from www.skfusa.com/mrc
You have successfully added from to your part list.
---