Sub Sea Screw Pump - Bearing Solution
Product Announcement from SKF/North America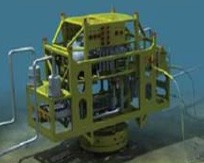 SKF specialized bearing solutions for sub-sea screw pumps, to help enable oil extraction as low as 3,000 meters in a single-step process. Sub-sea screw pumps operate in extreme conditions and test the performance limits of standard steel bearings, journal bearings and magnetic bearings.
Featuring a unique arrangement and advanced materials, the SKF bearing solution for sub-sea screw pumps offers a level of performance and reliability that standard arrangements cannot match.
The SKF bearing arrangement for each rotor consists of two CARB bearings to accommodate shaft deflection and axial displacement. A four-point angular contact ball bearing is also used to locate the shaft axially. The bearings are constructed from a super-tough stainless steel, which features high amounts of nitrogen for superior fatigue and corrosion resistance. NoWear coated stainless steel rolling elements and a specially designed cage contribute to the solution's robustness and reliability to accommodate a wide range of loads and speeds.
Additionally, this special arrangement can be augmented with bearing design upgrades to meet specific application demands. These include SKF hybrid bearings with ceramic rolling elements to reduce inertial forces and heat. Special SKF cage designs offer further resistance to corrosive environments. SKF NoWear coated rolling elements can help reduce friction, and SKF INSOCOAT offers protection from electric currents.
"SKF is pleased to offer new specialized bearing solutions with advanced bearing materials and designs that enable sub-sea screw pumps to perform reliably in deep-sea environments," said Dr. Lars Kahlman, the SKF project leader. "These robust solutions will help companies increase performance and well life, decrease downtime, and reduce the number of deep-sea interventions to a minimum in this emerging market for oil and gas extraction."
SKF offers a number of other solutions for special pump applications in extreme environments. For more information about SKF pump solutions, or to develop your pump solution with SKF Engineering Consultancy Services, please contact SKF Engineering Hotline at 1-888-753-2000.
---