Product Announcement from SKF USA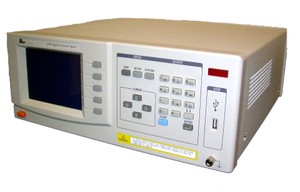 Manufacturers of coils, stators, rotors, transformers and other types of windings need fast dependable and proven test equipment. The Baker DT05 is fully functional as a stand-alone impulse tester or it can be integrated with other test instruments and test lead multiplexers in a comprehensive winding test system. The Baker DT05 performs an automatic impulse test at up to 5,000 volts. It compares the test results to a stored master waveform using one of three waveform analysis methods and provides a pass/fail signal. The Baker DT05-3 has internal high voltage relays for testing three phase stators.
Advanced design
Economical, technically advanced solid-state design
Easily programmable test parameters with up to 560 models
Digitally stored master waveforms
Three waveform analysis methods to detect insulation failure
Tests coils, rotors, transformers and stators up to 50 HP.
Theory of operation
The high voltage impulse test detects weak insulation between turns, layers or phases of a winding. A high voltage capacitor is discharged rapidly into a winding. An exponentially decaying sinusoidal resonant response is generated by the inductance of the winding and the capacitance of the tester. If the insulation breaks down when the high voltage impulse is applied, the resonant frequency and Q factor of the resulting waveform is different from that of a good winding.
A master waveform from a good winding is digitized and stored. Subsequent test waveforms are compared to the master waveform using one of three waveform analysis algorithms. If the test winding differs by more then the programmed limits, a failure is flagged. With the Baker DT05, the three phases of a stator can be compared to the master waveform or compared to each other using the balance test.
Specifications
Number of test leads for the Baker DT05: one high voltage terminal plus ground.
Baker DT055-3: Three high-voltage terminals plus ground.
Programmable voltage 500 - 5,000 V in 100 V increments Voltage control modes Normal, auto compensating for load Impulse energy 0.2 F capacitor, 250 mJ maximum Inductance range 20 µH minimum Waveform A/D resolution 8 bit No. of waveform samples 960 points at 156 KHz, 312 KHz, 625 KHz, 1.25 MHz, 2.5 MHz, 5 MHz, 10 MHz or 20 MHz Pulse repetition rates 3 pulses per sec. with waveform display on
5 pulses per sec. with waveform display off
No. of pulses per test 1 to 30, programmable Waveform memory 60 waveforms internally
500 waveforms in USB flash memory
Pass/fail waveform analysis methods Area comparison
Differential area comparison
Differential phase comparison
Failure alarms FAIL displayed on LCD, buzzer Parts counter Total, number passed, number failures Display 320 x 240 dots, monochrome LCD Trigger modes Front panel, external switch, interface bus Hardware interface controls Outputs: Test complete, analysis complete, pass, fail,
Inputs: Start, stop
RS-232C interface, standard Allows complete programming and operational control of the tester and transfers test result data including waveforms Accessories included Power cord, foot switch, high voltage test clip leads Power requirements 115 or 230 VAC, 50 or 60 Hz, 60 VA Dimensions 390 x 165 x 450 mm (15.5 x 6.5 x 17.8 in.) (WxHxD) Weight 8 kg (18 lbs) Warranty One year parts and labor limited warranty
You have successfully added from to your part list.
---