Product Announcement from SOC America, Inc.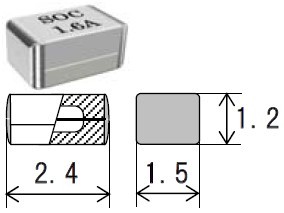 SOC introduces the most compact wire element fuse. Allowing for the reliability, precision, and high safety margins throughout wide temperature ranges that only wire element fuses provide.
Physical Dimensions: 2.4 mm x 1.5 mm x 1.2 mm
Designed for consumer electronics and industrial portable handhelds. These fuses offer superior AC and DC protection than thin/thick film counterparts.
Current Ratings: 50mA - 3A
Safe throughout a wide range of voltages from AC line voltage to DC bus voltage. Allowing utilization in a variety of supplies.
Voltage Rating: 125 Vac / 72 Vdc
Wire element design offers superior interrupting ratings allowing for safety even under the worst case scenario.
Interrupting Ratings: 50A (Ac and Dc all currents)
Low current ratings readily available, sealed versions readily allowing for use in Ex environments, wide range of rated currents, and possesses a Fast-acting operating characteristic.
Applications: Consumer electronics, Industrial electronics, Data loggers, DC/DC converters, and AC/DC converters
You have successfully added from to your part list.
---