Lose Weight, Beat the Heat
Service Detail from PA&E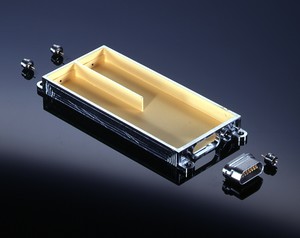 Over the past decade, PA&E has been providing customers with the most advanced hermetic connector and packaging technologies available. With the introduction of its new thermal composite packaging, this trend continues. The new technology uses titanium as the primary housing material and integrates composite heat sinks composed of molybdenum/copper (Mo/Cu) or aluminum/silicon carbide (AlSiC) into strategic locations of the structure for excellent heat dissipation capabilities.
The combination of titanium and Mo/Cu or AlSiC is ideal for achieving lightweight, low-coefficient of thermal expansion (CTE), and high-thermal-conductivity electronic packages. Electrical feedthru pins can be hermetically sealed directly into the titanium using PA&E's Kryoflex® ceramic to metal seals. Alternately, hermetic connectors made from explosively bonded dissimilar metals can be laser welded into position.
You have successfully added from to your part list.
---