Product Announcement from SOURIAU PA&E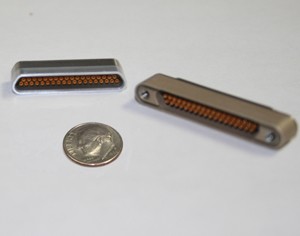 Mini-Micro-D connectors are designed for space, airborne, down-hole oil and any other hermetic applications where reducing size and weight are priorities. They have a 27% lower profile than standard Micro-D connectors (see photo for comparisson) and are designed to be laser welded into aluminum, titanium or kovar housings. These new connectors are MIL-PRF-83513/7 interface compliant and mate with connectors manufactured to MIL-PRF-83513/8.
SOURIAU PA&E's Mini Micro-D connectors can be configured with 9, 15, 21, 25, 31 and 37 pin counts. Its beryllium-copper pins support 600 VAC and 3A per pin and each pin is hermetically sealed with SOURIAU PA&E's polycrystalline ceramic, Kryoflex. They provide greater than 5,000 megohms of insulation resistance at 500 VDC and exhibit no evidence of dielectric withstanding voltage breakdown when tested in accordance with MIL-STD-1344, Method 3003. Like our other Micro-D connectors, the Mini Micro-D has a leak rate of less than 1X10-9 cc/second of helium at one atmospheric differential pressure and will operate reliably at temperatures from -65º C to 200º C.
CAD models and detailed drawings for Mini Micro-D connector line are available here (part number 94594).
For more information about this new Mini Micro-D connector from SOURIAU PA&E, or to learn more about the company's other interconnect products, EMI filters, and integrated electronic packaging capabilities, contact SOURIAU PA&E at 509-664-8000 or visit us at http://www.pacaero.com.
You have successfully added from to your part list.
---