Product Announcement from SOURIAU PA&E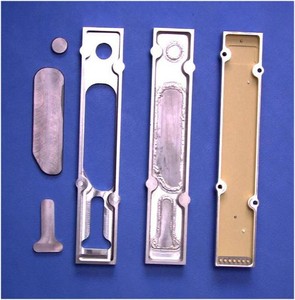 The combination of titanium and Mo/Cu or AlSiC is ideal for achieving lightweight, low-coefficient of thermal expansion (CTE), and high-thermal-conductivity electronic packages. Electrical feedthru pins can be hermetically sealed directly into the titanium using SOURIAU PA&E's proprietary Kryoflex® ceramic to metal seals. Alternately, hermetic connectors made from explosively bonded dissimilar metals can be laser welded into position.
Titanium is the material of choice for housings because of its commercial availability along with its characteristics that allow for conventional machining and its low density attributes. Titanium's CTE is compatible with direct attachment of aluminum oxide and gallium arsenide electronic circuitry. Titanium is 300% stiffer than aluminum and can maintain hermeticity with walls as thin as .010". This means an existing aluminum package can be redesigned to be stiffer, lighter weight, more reliable, and better thermally by integrating SOURIAU PA&E's titanium composite technology. Titanium is compatible with both resistance and laser welding processes for flexibility in connector integration and cover sealing. Titanium is also conducive to metal injection molding, making it a viable option for high-volume manufacturing.
Titanium, however, does have low thermal dissipation characteristics. By utilizing SOURIAU PA&E's titanium composite packaging technology (incorporating Mo/Cu or AlSiC composite heat sinks) that characteristic becomes a non-issue. During the initial design phase, the electronic circuitry is mapped against the housing floor where hot spots are readily identified. The Mo/Cu or AlSiC composite heat sinks are then bonded only at the locations where the housing comes into contact with the high-power devices. This limited use of the heat sink material minimizes the overall mass of the package.
You have successfully added from to your part list.
---