AC890/AC890PX adds EtherCAT for more flexibility!
Product Announcement from SSD Drives, a Division of Parker Hannifin Corp.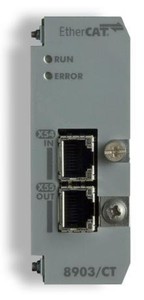 AC890/AC890PX adds EtherCAT for even more flexibility!
Adding to our existing Ethernet-based communications option cards, Parker SSD Drives is pleased to announce the immediate availability of the 8903/CT/00 EtherCAT option. EtherCAT offers high communication speeds and cable flexibility.
Additionally, enhancements include communications cards for ProfiNet, EtherCAT, and a Peer-to-Peer option, a high resolution analog input card, and one for reference encoder input. These options enhance the flexibility of the series and add functionality for a number of challenging applications.
Quick Links:
About Parker Hannifin / SSD Drives:
SSD Drives division of Parker Hannifin Corporation (formerly Eurotherm Drives) is an industry leading manufacturer of AC, DC and Servo drives, power conversion equipment, and motors since 1974. SSD Drives offers a wide range of reliable and innovative products, extensive application experience, and global support.
View our extensive line of cost effective quality products from Parker - SSD Drives:
AC Drives
DC Drives
Servo Drives
Servo Motors
HMI Touch Screens
Packaged Drives
Systems Solutions
---