Product Announcement from SSD Drives, a Division of Parker Hannifin Corp.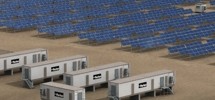 Alternative Energy Generation Solutions from Parker.
Where the sun shines and the wind blows over the land, Parker technologies capture energy otherwise lost. Wether it is for Solar, Wind, Wave power or Energy Storage solutions, Parker has well designed solutions in place.
Wind power is one of the fastest growing and most promising forms of alternative energy. Parker offers a wide range of electromechanical and hydraulic products and systems for wind turbines and supporting technology.

Parker manufactures a wide range of specialized Grid Tie Inverters for the Wind Energy market. From 1 kW to 1.5 MW, and up to 690 VAC, the latest in cooling technology allows the smallest footprint in the industry.
In addition to grid tie inverters, Parker provides a full range of generators through the Parvex and Compumotor brands. By using a low base speed generator, it is possible to eliminate the need for expensive and failure-prone gear boxes.

Oceans represent more than 70% of the earth's surface, but until now remained a largely untapped source of renewable energy. Parker is helping to commercialize wave power extraction techniques that convert the waves' inconsistent flow into stable and constant power suitable for distribution to the grid.
One of the most important processes in any PV solar installation is the efficient conversion of energy generated by the arrays to a form that is compatible with the power grid. Parker offers competitive solutions for every phase of solar energy - from a stand-alone grid tie inverter to a complete site-ready central station with battery storage.
Parker has been involved in developing leading edge technology for utility scale battery energy storage PCS units.

Modular approach - Systems from 500 kW to 20 MW can be configured
Systems can be built into shipping containers or trailers for easy relocation
Solid state VAR support for the ultimate in power quality
Air cooled or refrigerant cooled inverters can be provided
About Parker Hannifin Energy Grid Tie Division:
Parker Energy Grid Tie Division is an industry leading manufacturer of utility scale grid tie inverters and power conversion systems used in energy storage, solar, wind, and wave power applications. Based in Charlotte, NC, the Energy Grid Tie Division offers global sales and support channels. With installations around the world, Parker EGT offers application knowledge and real world experience to its customers. A team of project engineers is available to help with a complete grid tie solution that can be customized to meet your needs.
You have successfully added from to your part list.
---