Product Announcement from STACI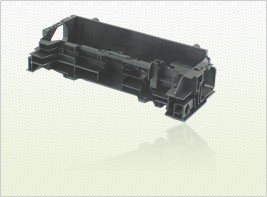 Overview
STACI offers a wide range of molding capabilities to meet its customers' needs, even the most demanding of applications and requirements. STACI has experience in a large variety of molded plastics products ranging from high volume consumer applications to lower volume medical applications and most applications in between.
Because of its experience with molded plastics, STACI's manufacturing capabilities range from the most conventional of molding requirements to the most complex, making STACI a leader in the industry. To meet each customer's individual needs, STACI has the capability of providing straight molding, insert molding and co-injection molding as required.
The equipment in STACI's factories range in tonnage from 15 tons up to 850 tons. STACI can accommodate customer production requirements while minimizing capital equipments costs and tooling expenses.
STACI's seasoned engineering staff provides tool design, development and fabrication. The lead-time from release of product design to production can be extremely short. STACI prides itself in compressing tooling lead-times to meet even the most demanding of tooling schedules.
Specifications
Molding Types: Simple Injection Molded, Double Injection Molded, In Mold Decorating, Insert Molding, SLA (prototyping).
Maximum molding machine capability is 850 Ton.
Range of Materials: General plastics including GPPS, HIPS, PMMA and PP; as well as Engineering plastics including ABS, SAN, PET, PBT, PC, PA and PVC.
Specialty Finishes: Silkscreen printing, pad printing, laser etching, spray painting, electro-plating, and rubber grip surface.
All factories are ISO9000 Certified and many are also QS9000 or TS16949 Certified.
All Plastic factories have in-house mold/tool design and fabrication capabilities.
Value-Added Services
STACI goes beyond just providing basic products and services. Here are some of the value-added services STACI provides to its plastic moldings customers to meet or exceed their expectations:
Computer system mold design: STACI utilizes advanced computers and workstations to serve its customers with state-of-the-art software including Pro-Engineer, Pro-Designer, Pro-Desktop, Euclid/Catia, Unigraphics, SolidWorks, MoldFlow, CADKey, AutoCAD, Power Mill and MasterCam.
In-house mold and tool fabrication: STACI utilizes modern CNC wire cutting and EDM machines as well as CNC machining centers to build all molds and tooling in-house.
Advanced quality equipment and testing: Production personnel are all trained in defect detection and prevention methods and use the latest quality control equipment such as CNC CMM, Optical Projectors, and roughness testers
Additional Reasons to Choose STACI Injected Plastic Moldings
Assembly services available
Around-the-clock engineering support
Dock-to-dock delivery
Just-in-time delivery using local or regional warehouses
You have successfully added from to your part list.
---