MA/BA8 Gen3 - Innovative Imprint Lithography
Product Announcement from SUSS MicroTec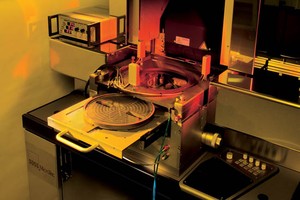 Nano Imprint Lithography (NIL) is a versatile enabling nano manufacturing technology, that has been included on the ITRS Lithography Roadmap at the 32 and 22 nm nodes in 2003. Other applications include patterned media, sensors, high brightness LEDs, VCSELs and other optical devices. This technology has been shown to be an effective method for replication of nanometer-scale structures from a template. As a highly reliable replication process, the resolution of imprint lithography is determined by the ability to create a master template having the required dimensions. NIL has already demonstrated sub-50nm resolution at low costs and is expected to play a leading role in the commercialization of nanostructures. SUSS MicroTec equipment supports novel, cost-effective Micro/Nano-Replication technologies, such as nano imprinting with UV and single imprinting for small and large areas.
The capabilities of the MA/BA8 Gen3 Mask Aligner can be optionally enhanced with various imprinting techniques for nanotechnology and UV-replication. The combination of reliable, versatile SUSS MicroTec Mask Aligners with NIL and UV-replications technologies makes an economical and innovative package for R&D allowing for an easy and fast switching between UV-standard lithography and nano imprint lithography. Variable stamp and substrate sizes allow for highest process flexibility.
Please check also the MA/BA8 Gen3 Mask Aligner website.

Product Highlights
Nano imprinting toolkit available for:

Small rigid stamp UV-NIL appplications
Large area soft stamp SCIL applications with high resolution and excellent repeatability

Printing down to sub 50nm geometries
Lens replication SMILE upgrade kit for manufacturing of wafer level cameras with submicron lateral alignment accuracy

Technologies
---