MO Exposure Optics
Product Announcement from SUSS MicroTec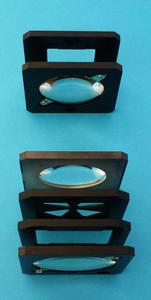 MO Exposure Optics is based on two Micro-Optical Integrators (Fused Silica) and an exchangeable Illumination Filter Plate (IFP). MO Exposure Optics fits well in all existing SUSS Mask Aligner illumination systems. Changing to MO Exposure Optics is a simple Plug & Play operation.
MO Exposure Optics is delivered with a full library of basic illumination settings, including all well-established illumination settings like A-Optics, B-Optics, D-Optics, HR and LGO; plus additional settings like Ring-illumination, Quadrupole and Maltese Cross (0°, 45°). By a simple change of Illumination Filter Plates (IFP) the user can choose his preferred diffraction reduction to improve depth of focus (DOF) and exposure latitude while reducing mask error factors.
Product Highlights
Improved exposure light uniformity (± 2%)widens process window and increases yield
More light (up to 25%) leads to higher resolution & steeper sidewalls
Customized illumination shaping enables highest process flexibilty
Optimized illumination for specific mask pattern
Variable diffraction reduction
MO Exposure upgrade available for:
You have successfully added from to your part list.
---