Maximum Protection.Minimum Weight
Service Detail from Saint-Gobain Ceramics - Hexoloy® Products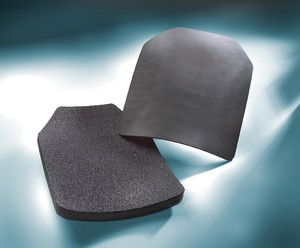 Saint-Gobain ceramics are the materials of choice for today's demanding armor protection applications. Our Hexoloy® silicon carbide is known for its high hardness, high strength and design flexibility with a weight that is less than half of most metal alloys. Our product line also features a variety of other sintered, reaction bonded and hot pressed ceramic materials, as well as transparent armor, reinforcements and composites.
Backed by more than 40 years of experience, including Carborundum and Norton technologies, we have developed numerous armor protection systems for a full range of applications including transport aircraft, helicopters, land vehicles, AC-130 gunships and body armor. We can provide ceramic armor in a variety of forms to meet your application requirements, and can deliver your ceramic armor solution when you need it, where you need it, anywhere in the world. For more information, contact Saint-Gobain Ceramics at 716-278-6233 or scd.sales@saint-gobain.com
You have successfully added from to your part list.

Play Maximum Protection.Minimum Weight Video
---