Product Announcement from Saint-Gobain Coating Solutions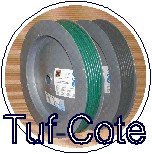 Saint-Gobain Coating-Solutions manufactures and markets hard-facing Flexicords made of tungsten carbide particles mixed within a self fluxing nickel matrix. These Flexicords are sold under several trade marks such as TUF-COTE, TUF-COTE HR2.
TUF-COTE provides abrasion resistant coatings for many industries such as oil drilling, ore mining, power generation, dredging, waste treatment, foundries, steel making, bricks & tiles, cement, wood industries, agriculture, palm oil, sugar cane…
Every wear-problem does not necessarily involve the same solution and we carefully study each situation to offer the optimum product and application. Our range of TUF-COTE is periodically improved in order to improve the versatility and the ease of use and to provide the highest level of abrasion resistance. TUF-COTE ropes are now available with a larger core wire and TUF-COTE can be produced with or without organic skin as well.
The benefits of our range of TUF-COTE are:
High mass percentage of Tungsten carbides allowing to improve the life-time and the durability of the coated tools.
When brazing, it is easier to get the great pool of molten metal, improving consequently the weld-ability of TUF-COTE.
The improvement of the weld-ability makes possible to get smoother and more accurate coatings. The deposition rate of TUF-COTE is also improved, also improved, thus higher productivity.
During the brazing operation, the new TUF-COTE is easier to handle and has less breakage occurrence.
TUF-COTE Benefits
TUF-COTE increases the life of the tools. TUF-COTE contains large WC particles up-to 1.6mm, which show the higest abrasion resistance (not possible with TIG, MIG, electrodes).
TUF-COTE shows the lowest volume loss under ASTM G65 test, compared to the main wear resistant metals.
TUF-COTE decreases the maintenance frequency.
The WC carbides are practically not affected with the torch method.
TUF-COTE needs to be applied on construction steel (the use of hard steels, or special and expensive steels is not necessary).
No capital investment is required to apply the TUF-COTE brazing flexi-cord (only a flame torch is required).
TUF-COTE application procedure is easy to learn.
TUF-COTE can be applied on the site or in any job shop.
Markets and Applications
Brick making: edges of molding screws, pulverizer mill scrappers, cones, combs, crushing hammers, mixer blades
Drilling: stabilizer blades, roc drilling bits, guides/sleeves
Steel making: fan blades, hopper liners, screens, dosing valves, guides, teeth and crushing hammers
Foundries: hopper lining, screens, scrappers, dosing valves, of bucket scrappers, feeder screws, crushing hammers
Dredging: scrappers & bucket teeth, scrapper blades, buckets liner, teeth of dredging bits
Civil works: scrappers & bucket teeth, graders scrapper, buckets liner, drilling bits, blades of mixer for asphalt machine, wear plates, tunnelling tools
Cement plants: feeding screws, fan blades, mixer blades, mixing scrapper, dosing valves
Mines: scrappers and bucket teeth, hopper linings, screens, feeder rolls, crushing hammer
Food: sugar cane crusher, screws edges for sugar beets, screws of palm oil press, mixer blades
Agriculture, forestry: barking blades & tools, wear parts for farming tolls, screws for feeding fertilizers, feeding screws for wood barks
Waste treatment: scrappers, blades of centrifugal machines and mixer, edges of screw for water treatment equipment
Ceramic industry: mixer blades, scrappers of pulverizer mill, feeding screw, crushing hammers, extrusion dies, screws
You have successfully added from to your part list.
---